ServicePRO Web End User Portal - Home Page
Return to End User Portal or ServicePRO Web Home
Overview
ServicePRO ServicePRO Web's Self-Service Portal Home Page can be divided into several sections. Sections can be customized by Administrators to further suit the needs of their business and requirements. End Users are also allowed to customize some of the layout and display as well, provided Administrators have enabled these options when designing the portal.
Customizable Logo
Notifications: Quick Messages, Reminders and Alerts
Recent Requests
ServicePRO Search, Sign Out and Show Side Bar
Side Bar: Home, Service Requests, Messages, Search Solutions, Audit Workstation, Collapse Side Bar
New Request button – Features a Request Wizard and Form option, which can both be customized by the ServicePRO Administrator in the Portal Designer
Header Bar: Active Requests, Request Priority Listing (left), and Support/Company Contact Information (right)
Recent Updates, and Status of Open and Closed Requests chart
Messages Widget
Announcements Widget
Most Viewed Articles Widget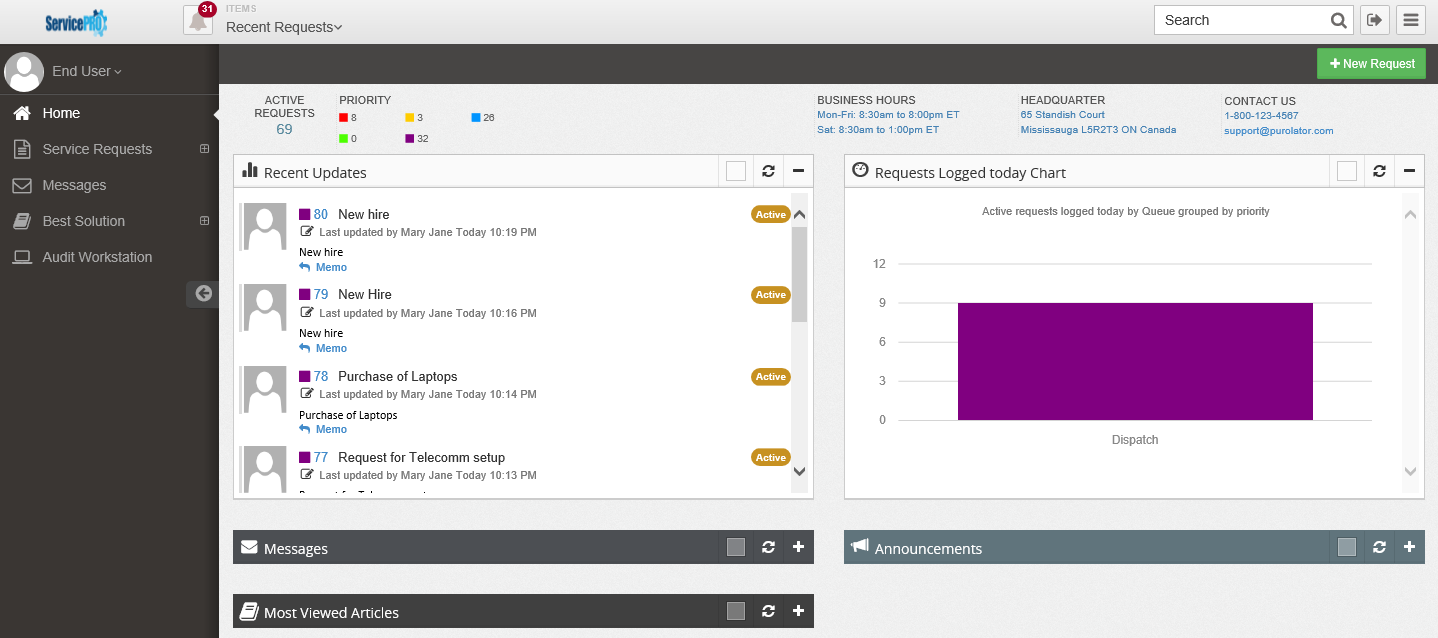 Header Bar: Active Requests and Priority
In the header bar, an overview of requests logged and their Priority level are displayed at a glance.
Active Requests displays the number of current open requests.
Priority states how many requests of each Priority level are open at a glance. Each color represents the stated priority.

Red – Critical
Yellow – High
Blue – Medium
Green – Low
Purple – Undefined
Average Response Time displays the average time taken for all of the End User's own requests to be responded to by a Support rep.
Adjusting the Header Bar
Please note that the Header Bar's contents will be adjusted based on the User's current screen size, such as for mobile devices.
To control custom content wrapping or truncating (with ellipses) in the header, Administrators should take note of that when customizing the HTML sections in the Portal Designer.
Support information Section – For extra small screens, only customizable section 3 will be displayed. In the example provided, only Contact Us information is shown.
Header KPI Section – For End Users on extra small screens, Avg. Response Time is not shown.



Notifications
An icon of a bell may be accompanied by a number in a circle. This Notifications Badge denotes the number of new and pending notifications that have not been responded to yet. This notification counter will be refreshed every 5 minutes.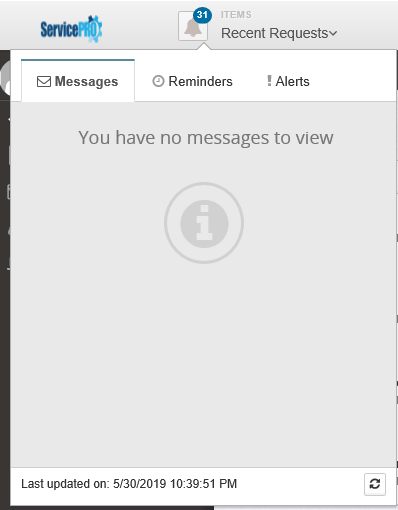 The Notifications Badge will show the combined count of all available notifications for End Users, including:
Alerts
Messages
Reminders
Each of these tabs will display up to 10 of the latest notifications for each category.
To view more than the last ten notifications, select the "More" option to open up additional notification items.
Each item listed acts as a hyperlink to that associated notification item.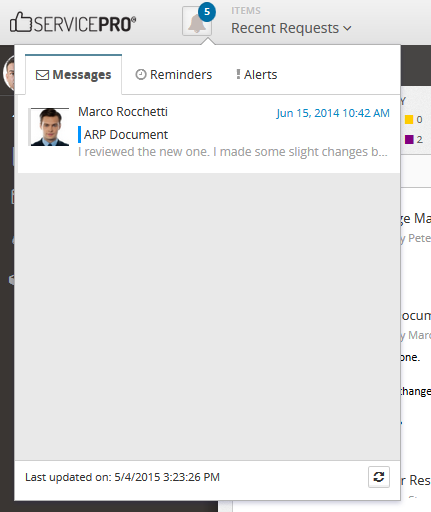 Search
A search bar is available from the upper right corner of the application. Search for Service Requests and Best Solutions articles available from the database.
Each searched item type will have a header name (i.e. Service Requests or Best Solutions). A number next to the header will indicate how many items of that item type can be found. A total of up to 10 results (including both Service Requests and Best Solutions articles) will be visible.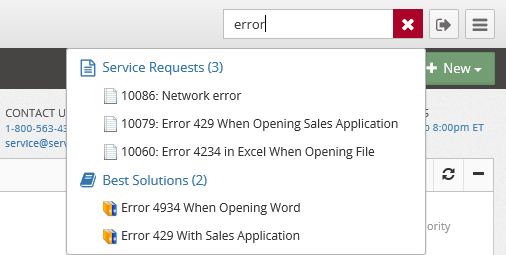 Headers and Views
When a searched item type is selected, a new view will open, allowing users to view a full listing of that particular item type.
For example, selecting the Service Requests header will open the Service Requests / Search Results view.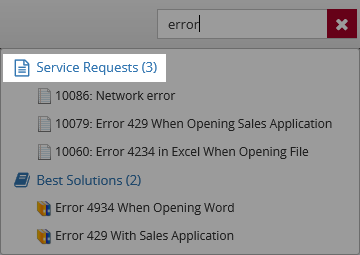 Side Bar
In the left Side Bar, the following options can be used to access other screens in ServicePRO:
Username – The end user name will be displayed here. Selecting the profile name will also reveal dropdown list that lets the User access Profile Settings, or Sign Out of ServicePRO.






Profile – Access the Profile page, where avatars, contact information, passwords and other user options are available. User Options in this menu can be enabled or disabled by the ServicePRO Administrator using the portal designer.
Sign Out – Sign out of the application and return to the Login screen. Signing out of the application is also available via the log out symbol in the upper right corner, next to the Search Bar.

Home – Access the Home Page.
My Requests – Access the My Requests page, where users can access Service Requests they have submitted. Users can check statuses and make updates to their submitted requests.
Messages – Access the Messages page, where Messages, Alerts and Reminders can be viewed from a listing. Service Requests attached to Messages can also be updated here.
Search Solutions – End Users can search Best Solutions articles to resolve issues on their own before logging new Service Requests.
Audit Workstation – Allows users to run an audit of their workstation. This audit will discover and then display all hardware and software installed on their workstation, and display it in a list format for recording purposes. The HelpSTAR IE Web Audit Cab plugin must be installed to use this feature.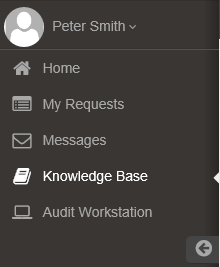 Side Bar Collapse
The side bar can also be collapsed with the arrow icon in the lower right corner under Audit Workstation.

Widgets
Widgets on the Home Page can be customized at both the system level and at the user level. At the system level, home page widgets can be customized separately for Licensed Users and End Users from the respective Portal Designer option.
For more information on Widget customization, please view the topics on ServicePRO Web - Portal Designer.
Widget Windows
Certain Widget window features can be performed without use of the Portal Designer, including:
Changing Widget window colors.
Refreshing Widget window contents.
Collapsing the Widget.

Recent Requests
Your last ten recently viewed and updated requests can be viewed from the Recent Requests dropdown menu from the top header.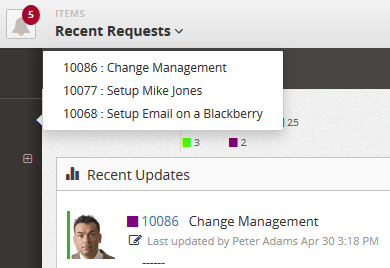 End User – Recent Requests Chart Widget
The Chart Widget in the Home Page will display a bar chart for End Users, featuring a count of the current user's Service Requests by the following statuses:
Open(not resolved yet)
Pending
Waiting For Response
Scheduled
Active
Closed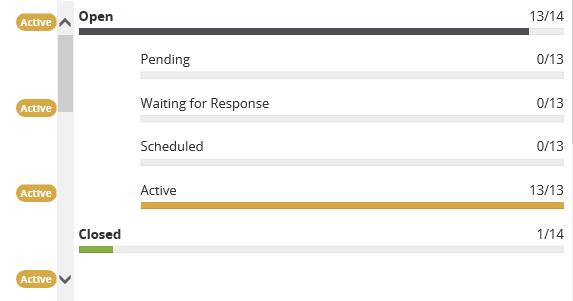 Announcements Widget
A Widget displaying recent Announcements for all Users will be displayed in the lower left corner by default. Announcements that expire soonest will be shown first. Announcements with no end date will not have a date range displayed in brackets.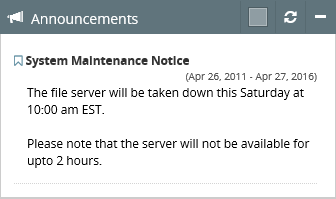 Messages Widget
The Messages Widget will display messages recently received from support reps working on their request. Users can choose to Reply to all participants in the thread directly, or view Request Details of the message's associated Request. Users can also access the Message Thread by selecting the hyperlinked thread title.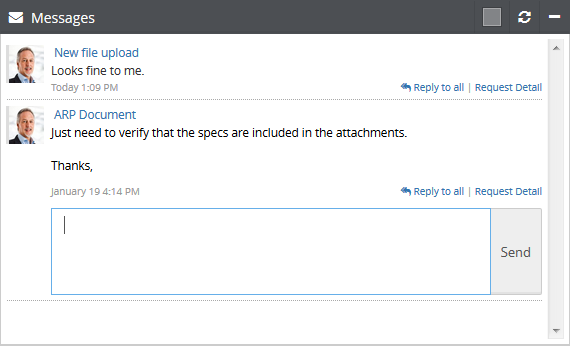 Most Viewed Articles Widget
The Most Viewed Articles widget displays the top viewed knowledge base articles allowing users to view the articles by clicking on the hyperlinked name. Please note that only the Globally Published articles will be displayed for end users on the widget. The top 5,10,15 or 20 will be shown based on the setting added by your ServicePRO Web administrator.