Set Charge Rates
Overview
This section allows you to assign the billing rates for the Support Reps in your organization. This will enable your organization to bill the clients you support. Also, it will allow you to configure different support costs among your Support Reps or organizational units.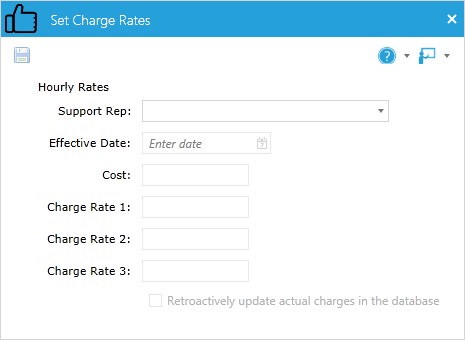 Charge Rate statistics are also listed in the Request Properties tab of any Service Request.
Accessing Set Charge Rates
From the ServicePRO Workbench, select the Setup/Administration icon.
Navigate to the Configuration tab.
Select Set Charge Rates from the listing.
Hourly Rates
In the
Support Rep
field, select the rep you wish to apply charge rates to from the drop-down list. In the
Effective Date
field, specify the date in which these charge rates will apply to the Support Rep's time worked. The following four rates can be applied to a Support Rep:
Cost: the hourly rates incurred by your company (salary, benefits). This field is intended for reference only and is not used in any reporting calculations.
Charge Rate 1: standard charge rate
Charge Rate 2: normal overtime rate (e.g. after 5:00 PM)
Charge Rate 3: normal overtime rate (e.g. weekends) Charge rates are normally used to distinguish between regular and overtime. However, it may be in your organization's interest to distinguish between various client types (e.g. government and non-government).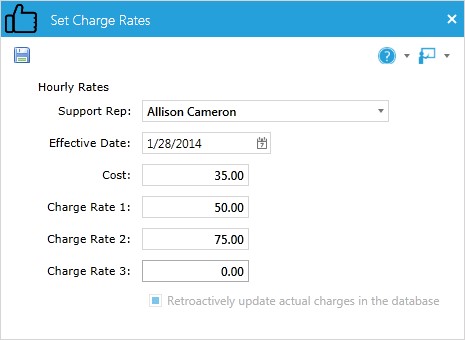 NOTE: If you assign new hourly rates and select an "Effective Date" that is in the past, ServicePRO will NOT automatically recalculate the cost and charge amounts.
If you want the charges to be applied retroactively, you must check
"Retroactively update actual charges in the database"
. ServicePRO will automatically recalculate cost and charge amounts based on the
Effective Date
and the new hourly rates.
Reporting on Support Cost and Billing
Users with reporting privileges can generate Standard Reports to review support costs and billing by Company, Organizational Unit, or overall billing rates.

To access reports for Charge Rate related information:
From the ServicePRO Workbench, select the Data Analysis tile.

Select Standard Reports from the report listing.

From the Standard Reports window, select the Support Cost/Billing icon from the Service Request Reports category of the Ribbon Toolbar.

Open the Reports List folders in the left pane. By default, the available hierarchy should be: Standard Reports > Service Request Reports > Support Cost/Billing.

Under Support Cost/Billing are three Report types:
 • By Company – View a report of billing information for a Company.
 • By Organizational Unit – View a report of billing information for an Organizational Unit.
 • Billing Rates – View a report listing Support Rep billing rates.

Narrow down the Report's time frame by using the Date Range fields in the lower left corner. Select Preview Report to open a sample report.

Charge rate information for multiple users over a set timespan will be displayed in the report.