Manage Categories
Return to Manage Infrastructure
can reveal unreliable hardware, service requirements, or training requirements.

Adding New Categories
Use the following steps to manually add new categories to ServicePRO.
From the ServicePRO Objects tab, click on the Manage Categories option.

Click on the New icon. The New Category window appears.





In the New field, enter the name of the category.

Select the category type. Category types can be created via custom fields.

Click the Save icon in the Toolbar to save the category.


Managing Existing Categories
Users with Administrator privileges can add, update, or de-activate a category as needed.

From the ServicePRO Objects tab, click on the Manage Categories option. The Find a Category window appears as shown below: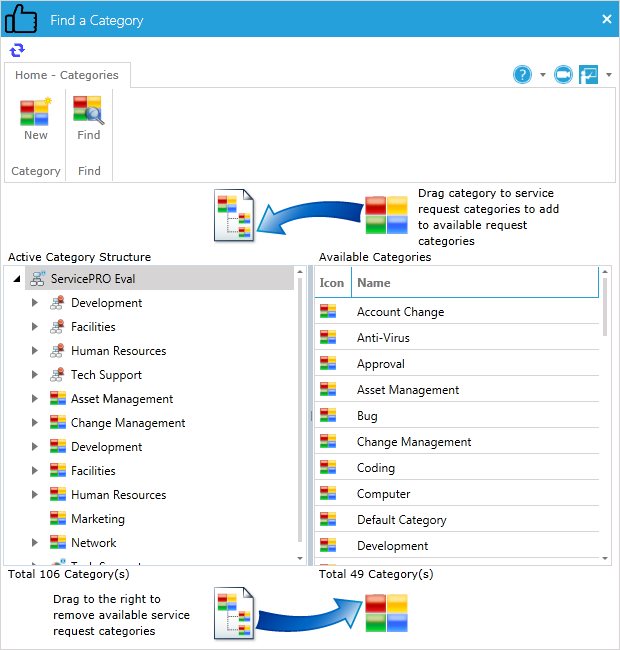 The window has two category groupings:

Active Category Structure—Appears on the left side (currently used to classify requests).

Available Categories—Appears on the right side (currently unused).

Adding Categories to Existing Lists
To add a category to the Active Category Structure list:
Select a category from the Available Categories list.

Drag and drop it to Active Category Structure




The category will now be added to the Active Category Structure list.




To place a category under a Service Center OU and/or create a sub-category, you can drag and drop the item to an existing active category or OU.




The added item automatically creates a new sub-category.






Removing Categories from Lists
To remove a category from the
Active Category Structure
list:
Select the Item you want to remove from the Active Category Structure list.

Drag and drop it to the Available Categories list.

Right click the mouse over a category to display a task menu such as new, update, de-activate.

Category Properties
Category Properties allows you to view and update details of a category in ServicePRO. Category Properties can be accessed by right-clicking a Category and selecting Properties from the dropdown list.
Manage Category
Update: Update a Category. Opens the Edit Category window, similar to the New Category window.
Print: Print out the category details
Output to Text File: Open the category details as a text file.
Category Details
In this pane, view details pertaining to the selected category. Some of properties may not be entered because some of these fields are optional. The following fields are available:
Category: The name of the selected category
Service Request Summary: A summary list of all requested logged under this category and their status
Related Best Solution Titles: A list of all the Best Solutions related to this category. For more information please see the Knowledge Management Tab.