System Email Accounts
Configuring a System Email Account
ServicePRO System Email Accounts process incoming email requests, send request history updates to users, and create new requests on behalf of users.
Configure System Email Accounts Window
NEW - Create a new System Email Account
UPDATE - Update an Existing Account
DELETE - Delete a System Email Account
Scan for new mail specifies how often the StarWatch process will scan the system email account for new email.
Issue Alert if unable to process mail A ServicePRO Alert will be issued to all Support Reps currently logged in
Create Announcement - An announcement will be created notifying that email processing has stopped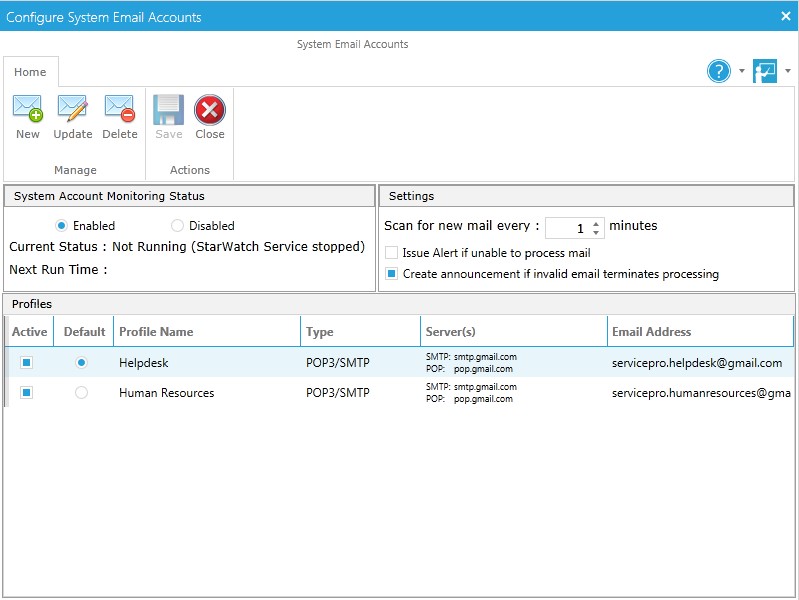 System Email Account Configuration Tabs
Account Setting – Allows to enter email account information, processing properties and test the connection settings entered.

If using EWS - To get the EWS URI please see the Configuring Calendar Synchronization Page
When the 'Allow CC List user(s) with request view privilege to update request via Email' checkbox is selected, any user with the correct roles on that request (minimum required role - 'Request View - Public Transactions') and who is part of the CC Recipient list will be able to update the request by replying to emails sent from that request.

Reply Messages – Create custom reply messages. Reply emails are sent to requesters for all incoming emails. For specific events, such a message failure or logged request confirmation, you can create the text that will appear in emailed responses. The Reply Messages tab features a Rich Text Editor to allow you to customize formatting of emails sent to requesters.
Outgoing Request Updates – Configure messages sent to users when their requests are updated. The Outgoing Request tab features a Rich Text Editor to allow you to customize formatting of outgoing request updates to requesters.
Attachments – Set the options for processing attachments. By default, email attachments are ignored. You can specify if attachments should be processed and attached to a service request. In addition, specific file types can be blocked if you do not want ServicePRO to process them.
Block List – Do not process email messages starting with certain text in the subject line (such as "Out of Office"); Email messages with subject lines starting with the defined string will not be processed by ServicePRO.
Click the Test Account Settings button (as shown in the image above) to confirm if ServicePRO can successfully connect to the system email account entered.
Click on the Save button to save your settings. You will be taken back to the Configure System Email Accounts window where your new settings will be added to the Email Accounts list.
If multiple accounts are entered, the first account you configure is the "Default" system account.
If you want to users to submit email requests to different email addresses, click the Add button to add accounts. This will open another Account Settings window.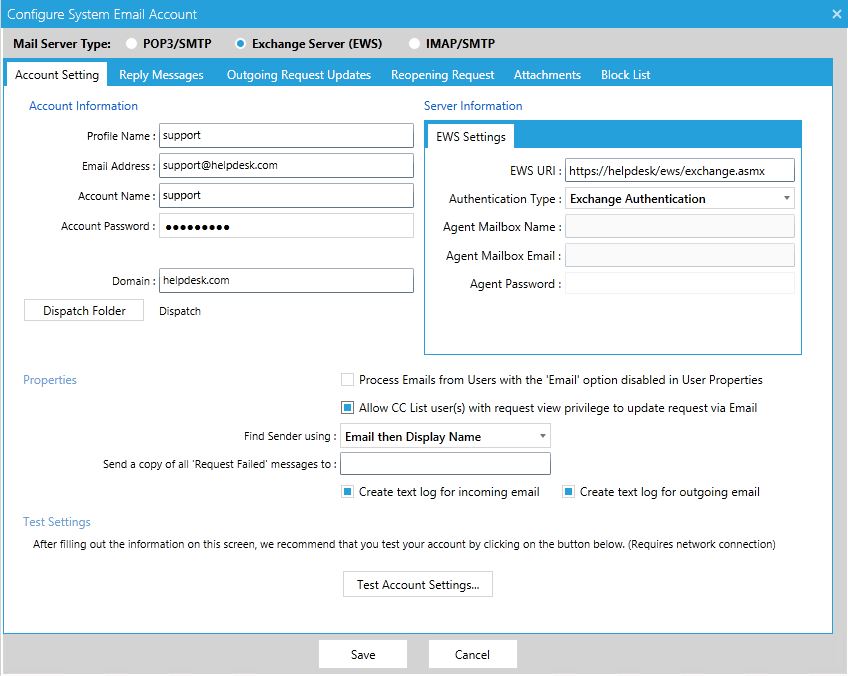 Requirements
The system email accounts function with POP3/SMTP, IMAP/SMTP or Exchange Web Services (EWS) compliant email systems.
A mailbox must exist on the mail server for each system email account you wish to use in ServicePRO.
The StarWatch service must be running to process incoming and outgoing email.
ServicePRO will only processes email requests that it can find a matching email address for in the database (unless otherwise configured with an Email Business Rule).
Ensure that all users submitting email requests have their email enabled and their email address entered correctly.
System email accounts can be configured to process attachments.
Note to System Administrators:
A recent optimization update for Starwatch Service and Rule Service requires users to perform the following actions:
When any changes are made to an existing System Email Account, Starwatch Service and Rule Service need to be restarted in order for the changes to take effect.
When any changes are made to the System Text Messaging account, Starwatch Service and Rule Service need to be restarted in order for the changes to take effect.
If the System Email Account settings are not saving, close ServicePRO and recycle the HSServicPROPool and the HSServicPROPool.Service application pools on the ServicePRO (web) server. This can be done in the IIS Manager by expanding the server name and selecting Application Pools on the left panel, then right-clicking on the HSServicPROPool and the HSServicPROPool.Service individually from the middle panel and selecting recycle.