Home Page - Interactive Tiles - Queries
Queries Tile Overview
ServicePRO's Interactive Tiles can be customized to display publicly visible Queries, and Queries belonging to the current user.
The selected query's results will be displayed in the tile.
The Query results in the Tile will refresh automatically based on Refresh Timer settings in User Options, under the section ServicePRO Views - Background Refresh Intervals.
For more details on this function, please view the Wiki page on Queries.


Customizing Query Tiles
After selecting the "Query" type from the Tile Customization menu, users can select a Query from the following list to display in this tile :
Private Queries belonging to the current user
Public Queries, including those belonging to other users.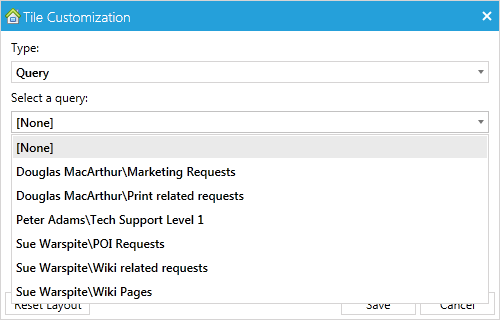 Context Menu Options
Upon right-clicking a request in the Query Results list, users can select from the following options:
Add Memo
Assign work/responsibility
Close (or "Reopen" if request is already closed)
Schedule Request (Select calendar date)
Suspend Request
Waiitng For Response
Reminder
Update Request
View Request Detail
Customize View
Pin this request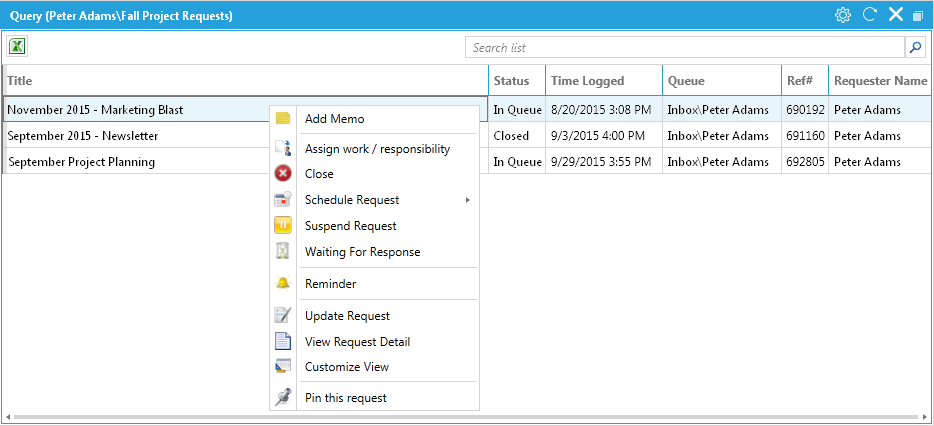 NOTE:
If a Query selected for a Tile has the 'Ask for run time' Criteria specified, the contents of that Tile will not refresh automatically overtime. Users will need to click on the 'Refresh' icon manually to retrieve new data. Users will be provided a notification regarding this Criteria.
Search Functionality
In the Search field, users can search for specific content in the query results by entering a search phrase.
Export Functionality
Users may export Query Results from the Tile by selecting the Excel icon in the upper left corner of the Interactive Tile. Users will be prompted to save the file locally in .xlsx format.

Immediate Updates
Context menu options in Interactive Tiles have immediate effects; "pending updates" will not occur like in the full view functionality, and changes will be committed immediately.
For example, Memo updates are saved immediately with no pending updates. Please take note of this when performing important actions such as Closing requests from the Query Tile.