Home Page - Interactive Tiles - Charts
Chart Tile Overview
ServicePRO's Interactive Tiles can be customized to display a selected chart from the available Public Charts and Private Charts belonging to the currently logged-in user.
The Charts Tile will refresh automatically based on Refresh Timer settings in User Options, under the section ServicePRO Views - Background Refresh Intervals.
For more details on Charts functionality, please view the Wiki page on Charts.
Customizing Chart Tiles
After selecting the "Chart" type from the Tile Customization menu, users can select from the available list of private charts belonging to the current user and the Public Charts to display in this Tile.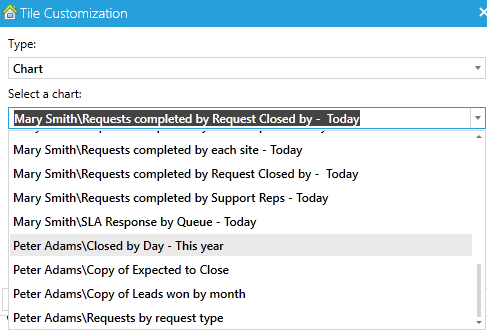 Users now also have the ability to filter the chart list by typing in keywords. The list will be filtered based on the word entered making it easy to find what you are looking for on larger lists.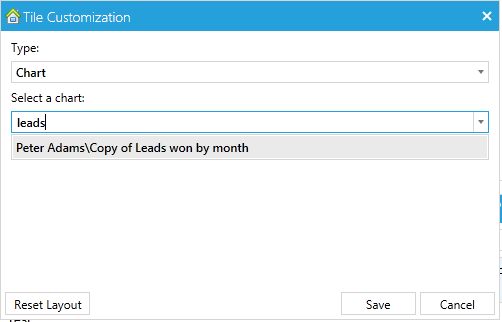 Charts Tile Functionality
In the Charts Tile, users can view detailed data points on a Chart (i.e. a 'drilldown') by selecting a portion of the Chart.
Export Functionality
Users may export Charts from the Tile by selecting the Excel icon in the upper left corner of the Interactive Tile. Users will be prompted to save the file locally in .xlsx format.

Export Chart Functionality