Home Page - Interactive Tiles - Shortcuts
Related pages:
Overview
Users can add Shortcuts to this Tile for quick-access to other functions in ServicePRO, taking them to the full version of that view automatically.
Users can search for Shortcut names by entering text into the text field.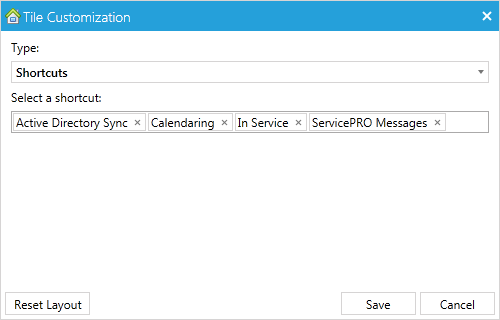 Users may also use multiple Shortcuts Tile windows at once, allowing them to make use of multiple groups of Shortcuts for organizational purposes.


Business Case for Shortcuts Tiles
Users can make use of multiple Shortcuts Tiles by customizing them for a variety of business scenarios, and accessing these ServicePRO functions at a glance. Tile groupings can be best tailored for specific users, organizational units or teams.
For example, in a Sales environment, agents can make use of Shortcut Tiles featuring the following items:
Manage Users and Companies

Add/manage users and add/manage companies

Sales agents need to constantly add new leads and contacts in the system
Reports and Queries

Custom reports and existing queries

Sales functions require high volumes of reporting, needed to assess whether or not agents are meeting sales targets
Documents

Document Listing

This gives the agents the ability to quickly access quotations, invoices and contracts