ServicePRO Web End User Portal - Knowledge Base
Return to End User Portal or ServicePRO Web Home
Overview
End Users can search for Knowledge Base or Best Solutions articles that are intended for resolving common issues. Solutions are submitted by Privileged Users in the Support Rep portal, which can be viewed by all users in ServicePRO.
To access the Knowledge Base, End Users can select this option from the side bar.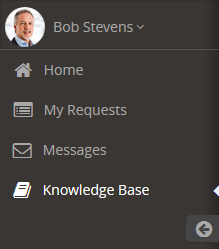 Searching for Best Solutions
Users can search for Knowledge Base articles using one of several criteria:
By Search Phrase
When searching for articles by phrase, Users can use the following criteria:
Any word
All Words
Exact Phrase
The search values will seek out text in the following fields of an article:
Solution Title
Problem Description
Resolution text
Keywords (entered in by the Privileged User when creating the article)
End Users will only be able to view globally published solution articles. Only Privileged Users will be able to view articles that are internally published, or are in Draft status.
By Top Articles
Searching with this option will return the Top 20 (based on the number of search hits) Knowledge Base articles, sorted by number of search hits in descending order.
By Recently Updated Articles
Searching with this option will return 20 of the most recently updated Knowledge Base articles, sorted in descending order by update time. List Best Solutions The Best Solutions grid will display the following fields:
Solution ID
Category
Title
Articles will be sorted by any of these three categories. Sorting can be adjusted by selecting any of the column headers for Solution ID, Category or Title.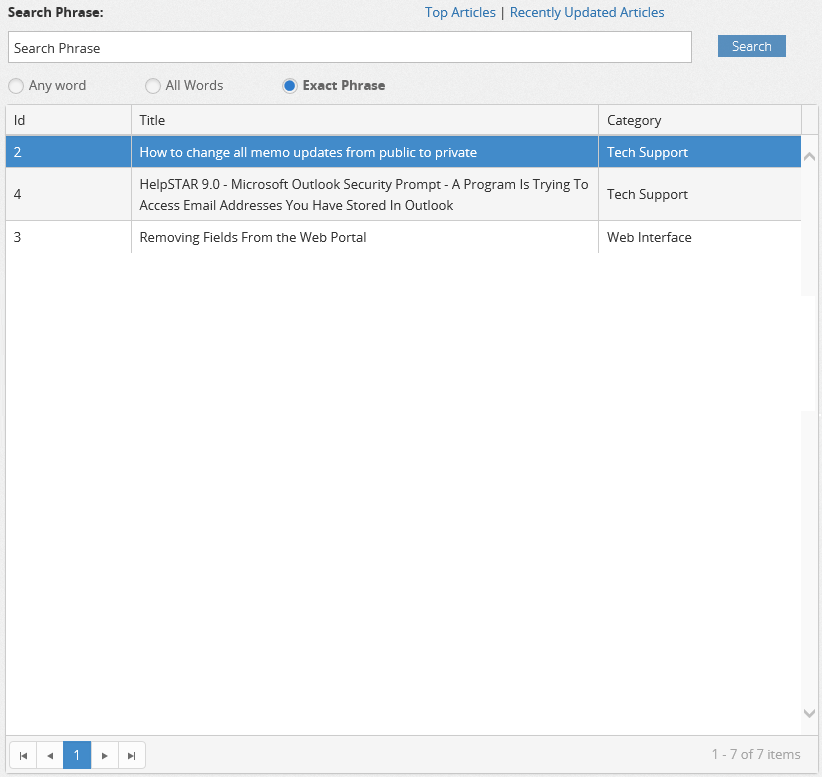 Best Solution Details Panel
On the right panel, Best Solutions Details will be displayed. The following information is available:
Tabs
Main Tab – Best Solution Detail
Solution ID
Title
Category
Location
Problem Description
Resolution
Revision
Keywords
Related Solutions – Clicking on the link will display details for the selected Related Solution
Custom Fields tab – This tab will feature any additional information designated by the creator if the article is a custom object-type Best Solution.

"Custom Fields" may have a different name if it was adjusted in the Portal Designer.

Documents tab – If the best solution contains attachments, Users will be able to view them here.
Header Toolbar Options
The following options are also available in the Details Pane header when a Knowledge Base article is selected:
Refresh – Refresh Knowledge Base article details.
Print – Print the Knowledge Base article.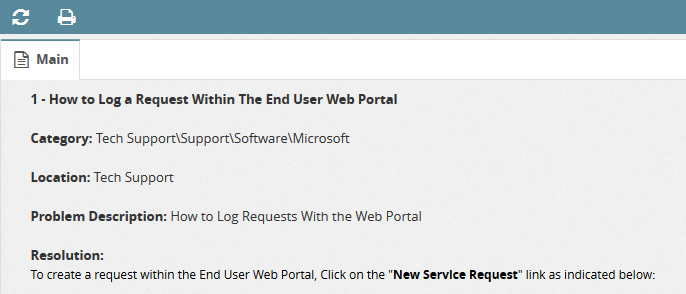 Suggest Solution for End User
Users may also view Best Solutions or Knowledge Base articles from the New Request Wizard, after entering the Title.
ServicePRO will automatically load a list of Best Solutions articles by matching words used in the Request Title entered by the User.
NOTE: Loading Best Solutions articles based on Request Title can be enabled or disabled by an Administrator in the Portal Designer.