Recent Documents
Return to Document Management
Overview
Support Reps can view documents they have viewed or updated recently in Recent Documents. This window will display the list of most recently accessed documents in the left pane, and preview the document's contents in the right pane.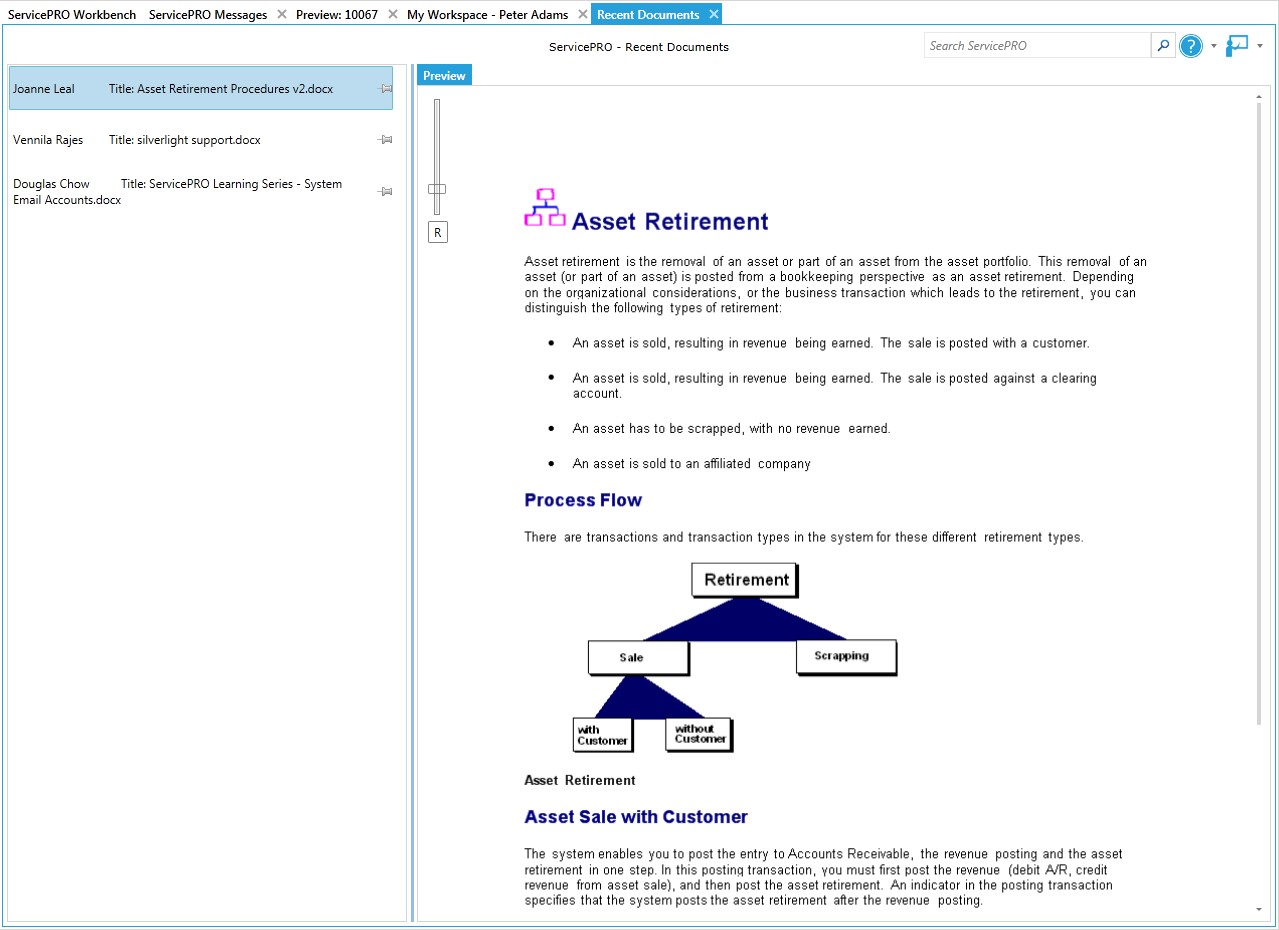 Accessing Recent Documents
To access Recent Documents, select the Recent Documents tile from the ServicePRO Workbench.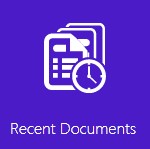 ServicePRO – Recent Documents Window
Request List Pane
In the Document List Pane, select from a list of your most recently viewed and updated documents. Right-clicking a document from this pane will display several options:

NOTE Up to a maximum of 25 pinned and 25 unpinned items can be viewed from the Recent Documents Module, when viewed from Requests, Documents and Appointments. The listing will never exceed 50 items.
View Details
Immediately open the file in the application designated by your system. For example, DOCX documents will open in Microsoft Word.
Pinning
Pin to List
Items can be pinned to designate priority over other documents, or emphasize priority on a file that needs to be updated immediately.
Pinning an item will visually mark that document with a green thumbtack icon.
When an item is Pinned then it will come at top of the Pinned items and if this Pinned item is 26th item then there will be a warning message that "You have exceeded the limit for the pinned items". User has to UnPin another item to Pin this one.
NOTE Up to 25 items can be pinned to the top of the list, and a maximum of 25 unpinned items, for a total of 50 items. When a 26th item is pinned, the 25th item in the list will be removed and placed at the top of the Un-pinned listing. A warning message will also state "You have exceeded the limit for pinned items" if you go over 25 pinned documents, and the User will be required to Unpin an item before proceeding.

Documents can be pinned and unpinned from this listing, or also by selecting the Pin icon from the Documents Ribbon Toolbar for a request.

Unpin From List (Item is already Pinned)
To remove a pinned item from the Document List, select, or select Unpin from the Document tab of a Service Request. If an item is Pinned, and subsequently Unpinned, then it will be placed at the top of the Unpinned items listing.

Remove From List
Remove the Document from the listing. It will not appear until it is updated again by the User.
Preview Pane
The right pane allows you to preview documents or files. The Preview Pane displays only the first page of the selected document, if applicable.
Zooming Functionality
On the upper left corner, zoom in and out of the document with the slider control. Press the "R" button below the slider to reset the view to the default zoom level.


Return to
Document Management