Collaboration and Communication
What?

Users can manage meetings and appointments related to service requests via ServicePRO calendar. Calendar will send notifications for the upcoming events and integrates with the user's outlook calendar.
The Email Inbox allows users in ServicePRO to create or update service requests by using messages that are available in their local email accounts. Email Inbox can integrate with outlook and other external mail client's such as Gmail, Hotmail etc.
ServicePRO allows collaboration amongst users and teams to work together on requests, avoid duplication of effort and make sure everyone is in the loop.
Why?
ServicePRO's integrated calendars are great for synchronizing and coordinating tasks, and documenting decisions and action plans taken. Having all original communication attached including email correspondences to the service requests provides rich communication history to the activity stream
The chat tool allows support reps to have quick short conversations regarding issues requiring immediate feedback or approval. The chat conversation becomes the transcript of the request.
The built in Screen sharing module is included with ServicePRO at no extra cost. RemoteASSIST allows support reps to connect with end users, view their screen, take control and share files.


Access via Interactive Interface
In the Interactive user interface, users can access collaborative tools through the Top Menu Toolbar, where users can access their Messages, Alerts, Reminders via the Request Creation icon.
Clicking on each item allows users to access (in order):
Reminders and Alerts
Dispatch Items
Messages
Meetings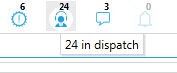 Access via Workbench Interface
Request creation, Views and Request Search functionality can be performed by selecting their respective icons in the Workbench.

Pages in this Section