Floating License User Sessions
Return to Administration
Use this icon to see which floating license users are logged on to ServicePRO.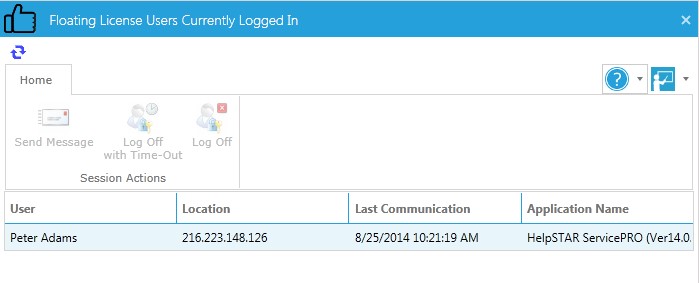 From the Administration tab, click on the Floating License User Sessions link.
Refresh as needed to determine which Floating License users are logged on at any given moment. The user list will show User name, Location, Last Communication, and Application Name (version of ServicePRO).
Select the appropriate action for the ribbon. These include:
Send Message – Send the selected user a custom pop-up message
Log Off With Time Out – Force the selected user to be logged off after asset amount of time
Log Off – Force the selected user to be logged out immediately
Ribbon Toolbar – Session Actions
The Session Actions ribbon toolbar contains the following options:
Send Message – Send a message to the selected Floating License User from the listing.
Log Off with Time-Out – Prompt the selected user to log out after a period of time, beginning with a time-out warning before they are logged out.
Log Off – Log out the selected user immediately.