Announcements
Return to Collaboration and Communication

Manage Announcements
Manage Announcements can be used to post important Announcements on the Workbench for all logged in users. The Announcements are displayed on the Workbench in the upper left corner.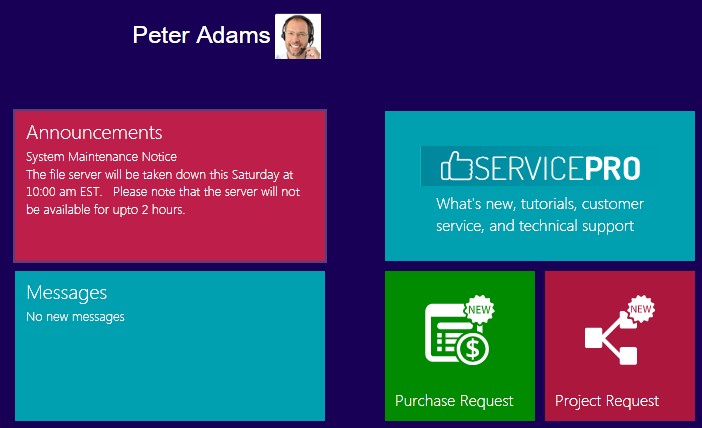 Clicking on the Announcement app will open the pop window displaying all current announcements as shown below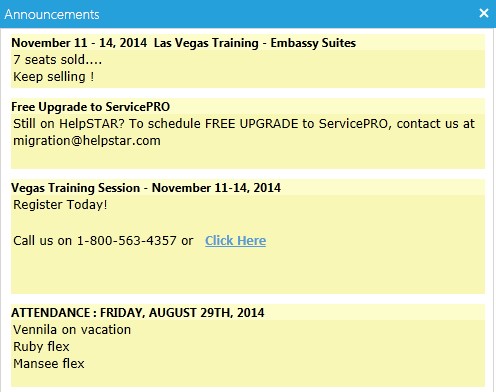 Accessing Announcements
Use the following steps to add new announcements to ServicePRO.
From the ServicePRO Workbench, click on the Setup/Administration tile.
Under the ServicePRO Objects tab, select the Manage Announcements option. The Announcements window opens.
Ribbon Toolbar
The Ribbon toolbar features various options allowing you to view, create, update and manage Announcements. Display Task Menu – "Announcements for"
In this section, select from the following Announcement display options:
All Users – Display announcements available to all users.
Privileged Users – Display announcements available only to privileged users.
Announcement Task Menu
1. New
Clicking the New icon in the ribbon toolbar opens the New Announcements window, allowing you to set the following options:
Recurrence – Set Announcements to recur at timed intervals, by daily, weekly or monthly periods.
Title – Set the title for the Announcement. It will be displayed in bold above the announcement contents.
Start/Expiry Date – Set the duration of time the Announcement should be displayed for, using a calendar and time fields.
Audience – Set it so either All Users can view an announcement, or restrict it to Privileged Users only.
2. Edit
Opens the Edit Announcements window, allowing you to edit a selected announcement using the same interface as the New Announcements window.
3. Delete
Delete a selected announcement from the list.
4. Recurrence
Set Announcements to recur at timed intervals, by daily, weekly or monthly periods. Select the frequency of recurrence to occur every few days, or select from daily, weekly or monthly time intervals. You can also select the range of time for the recurrences to occur.
Announcements Column Display
In the main portion of the Announcements window, Current, Upcoming and Expired Announcements are displayed across three columns.
Total Records keeps count of the number of Announcements under each category.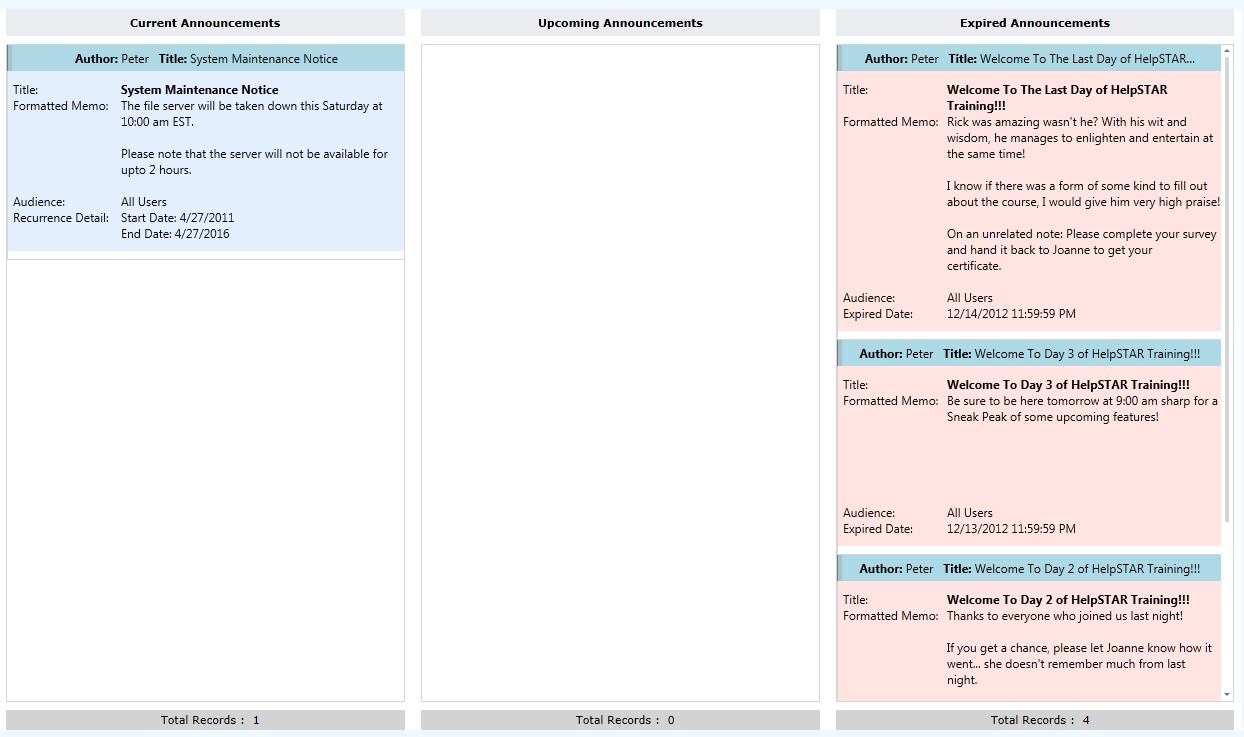 Current Announcements – Currently displayed announcements are shown here.
Upcoming Announcements – Announcements set to appear in a future date (done via New/Edit Announcements' Date fields) are shown here.
Expired Announcements – Announcements past their expiry date will not be displayed on the Announcements app on the Workbench. These will only appear in the manage announcement area. Expired Announcements can be reactivated by opening them in the edit mode and setting date to current or future.